2 New Facebook Features That You Simply Couldn't Miss
News Flash! Just when you thought you have mastered the Facebook landscape, Mark Zuckerberg's team has come up with yet another surprise! Facebook has introduced some 'cool' new features to pep up your online experience. And this time, "it's going to make your time on Facebook 'more' fun", a spokesperson from their Menlo Park HQ remarked.
So, What's The BIG News?
First up, Facebook has introduced the 'EDIT' option for users. Now you can 'EDIT' your Facebook posts after you publish them. "Previously you had to delete your post, lose all your Likes and Comments, and re-post to edit something on your timeline." But not anymore!
How Do I Know Whether This Feature Is 'ON'?
Simple, go to your timeline. Select any of your previously published posts. Click on the small 'down arrow' symbol on the top right of the published post, to open a drop-down menu. Select 'Edit' from the available options and start editing the text. For reference consult the image below.
You can also – Change Date, Add Location, Highlight your post, Hide your post from the Timeline, Delete or Embed your post in your blog or webpage.
Now, about the second update. But first tell me, what would you do to find out, in one place, what your college buddies or colleagues or business rivals have posted on their timelines, liked or commented on Facebook in the last week, the last month or the month before and so on? You would say "I'll click open their profile and scan their walls and activity feed. Yes, but won't that be an arduous task? Sure thing!
What if you search on Facebook "posts by my colleagues from august" and whoa, all of their Facebook activity from August shows up! Yes, that's what the second feature is all about. It's called "Post Search" an extension of the earlier introduced "Graph Search". Facebook announced its launch on September 30. This new feature will roll out progressively, first in the United States and then the rest of the world in the coming weeks!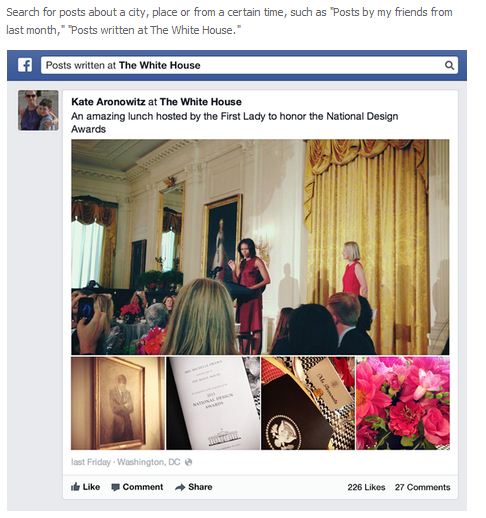 Need more info on that? Check out details from the Facebook Newsroom Click Here
So which of these two updates are you really impressed with? Let us know in the comments below.
Stay updated on news, views and analysis from the world of Social Media. Stay connected to ITS Blog.