The Key Things To Follow To Rank 1st In Google
Google's algorithm is highly sophisticated to measure in which order websites be ranked on their result page. From websites contents to its mobile friendliness. Find out how to make it on the first page.
Write in-depth Quality Content
Make sure that your business is on top of the marketing trends. This might include performing keyword research, creating an editorial calendar, writing relevant blogs for your target audience, targeting long tailed keywords, optimizing your title tags and meta descriptions.
Create a Sitemap
You need to have a sitemap for your users as well as submitting an .xml sitemap to Google via Web Master Tools. This way Google will know exactly what's on your website. Logging in will also show you if the website has any errors or issues.
Redirects
The step is important when you are creating a new website. All the pages on your previous website are indexed by Google. So it is important that the new URLs match the previous ones. If they don't, you should set up "301 Redirects".
Be Mobile Friendly
Since April 2015, Google has taken into consideration the mobile-friendliness of websites when it comes to search rankings.
Site Speed
It's no secret that sites which load quickly and download faster are Google's favorites. If you're unsure about how long it takes for your website to load you can check it.
Descriptive URLs
Your page's URLs should not contain a mix of random letters or numbers. Instead, that they are descriptive, clear and that they include keywords.
Title Tags
Tell the Google what the page is all about by using a title and descriptive tag. They are equally as important as the content on the page itself. You can search your title tags by using Google Search Console.
Be Consistent
This is a long term play but a play that reaps massive rewards. In order to stay relevant with Google you need to consistently create quality content, constantly review your website from both a technical and content perspective and always be looking at ways to improve usability and user experience. You want to attract new customers but it's very important to engage and keep the customers that you already have.
There are no guaranties with Google, but following these guidelines you can ensure that they are taking the right steps to getting your website ranked.
How To Use PPC Campaign Management Effectively To Enhance Your ROI
You may want to increase your ROI, but it cannot be achieved without improving your online sales. For a better return on investment on all online sales, PPC advertising campaigns is the ideal option that can meet your business objectives.
Pay-per-click advertising is the most trusted and convenient option of promoting your online business and acquire the targeted results. Often referred to as pay for position campaign or pay for performance strategy, such advertising techniques will help you to promote your website and stimulate your online sales significantly. With proper planning and strategy, PPC campaigns not only heighten your business but also generates adequate traffic and host website. The better the PPC campaign management, the profitable is your ROI.
Here are few tips, on how to use PPC advertising campaigns effectively to enhance your ROI for your online business.
- Proper marketing Plan
An effective marketing plan is of paramount significance for the successful implementation of the PPC campaigns. Strategically planned and well structured campaign for PPC advertisements will yield better return on your investments.
- Lay emphasis on CPC
PPC campaign management puts enough emphasis on CPC (cost per conversion) and its essence in online business. By keeping a track on your conversions, PPC management helps to save both your money and time and contributes towards effective decision making.
- Apt Keyword
To have a better ROI using the PPC advertising techniques, you need to select appropriate keywords related to the particular industry and improve your research to attract visitors including buyers, towards the particular advertisement. Right selection of the key phrases will generate more traffic and click on your website yielding more revenue out of PPC campaign.
- Constant Monitoring
Continuous monitoring of your PPC advertisement campaign with the assistance of various search engines is quite crucial. The success of your marketing campaign depends on the constant monitoring of your PPC advertisement to find out the areas which require modification. This will enable your website to attract its target population and experience increased traffic. If you find that your PPC advertising campaign is ineffective, you can immediately put an end to it.
- Testing
Determining the general feedback of the visitors of your site towards your particular brand is one of the best options to affect your ROI with PPC advertising campaigns. The respond of the public towards your brand will assist you make necessary changes in your PPC campaign and get benefitted. So make sure that your brand is of high quality and meets the precise requirements of your clients.
- Professional help
You can seek for professional help for various firms offering assistance for PPC campaigns. If your business is small and you wish to expand it, it is best to hire the services of a professional PPC marketer to boost up the sales figures and increase the ROI significantly. Professional PPC marketers are well aware of all the probable intricacies related to this form of advertisement and can adroitly handle the negotiations with the major search engines. Hiring the services of a professional PPC marketer can save your time, since such advertising campaigns are time consuming and often shift your focus from the core business application.
Follow the above tips to increase your ROI by using PPC campaigns in the best possible way.
Build A New Look & Promising Website For 2016
2015 is coming to a close and you've probably already analysed the figures. If you didn't perform as well as expected it's time to review your website strategy for next year. To help, we've come up with several steps to ensure that your 2016 is a prosperous year.
Keyword Research
It is crucial that you do your keyword homework and optimise your web pages and content using keywords that were most searched by the users. In the future, you will be able to better target and attract customers by using this keyword research to guide what news and blog posts you should add to your site.
Look at your Competition
Do not obsess over your competitors! You don't want to copy their websites. However, it would be handy to know where you stand in comparison to them. Especially when it comes to engine rankings and new features that may benefit your audience.
Client Profiling
Many of your clients will have several different audiences with varying needs, tastes and expectations. It is important that you identify these different attributes and prioritise them accordingly. You can start with the simple questions – what is our audience's age, lifestyle, profession. Afterwards, you can start asking more targeted questions. For example:
What are the most important features for them?
What answers are they looking for?
What type of content is most suitable for them?
What is your marketing message for this audience type?
How can you help make it easier for clients to transact with you?
Analyses your Current Website Statistics
Take a look at the traffic figures that you have now. This could include having a look at Google Analytics and the metrics and reports produced in there, such as:
Bounce Rate (monthly average)
Time on site (monthly average)
Number of visitors/visits/unique visitors (monthly average)
Number of sales generated (monthly)
What locations your visitors come from?
What type of actions are they taking on your site? (i.e. clicking on your phone number, downloading a file) (this is if you have event tracking set up within your account)
We wrote a blog on How to Diagnose Traffic Drops using Google Analytics, it might be worth your while to read it before you analyse your current metrics.
What are your Assets?
Establish what strong points your existing website has. These might include:
Most viewed/shared content (especially on social media)
High traffic pages
Unique features or user sign-ups
If you are restructuring your website you don't want to lose the top performing pages on your website. So make sure that you know what your strong points are & start to Pay Attention to Your Search Engine Optimized Pages.
There is no point in redesigning your website if it won't be found online. As a result there won't be any new leads, transactions made… Here's how to stay relevant online:
Spend time analysing your Google metrics.
Research your keywords.
Look at your URLs, heading tags, and description tags to make sure they match your content.
Add freshly optimised content as often as possible.
Make sure your content is relevant to what you do and is useful for the user.
Ensure that the technical aspects of your site are optimised including : fast page speed, responsive design and ensure there are no coding errors or broken links as these can dramatically impact on search rankings (your developer or tools such as sitebeam can determine these for you)
Sitemap
Sitemap is the "table of contents" for your website. It shows what content the website has and where to find it. Before you begin designing a new site, list all of the pages that you want to have and then structure these pages into a clean and logical navigation structure. People expect to see all your services in one area and about information housed under an about tab. You should only be 2 or 3 clicks away to reaching any piece of content on a site.
Note: Was the sitemap from your current site submitted to Google's Webmaster Tools? If so, log in and see how Google indexed your site and look for any issues or improvements that you can make for your new site. Ensure that your new sitemap is submitted to Google and ensure that Google only sees one domain (remember www.newsite.com and newsite.com will be seen by Google as two sites, which is very bad for SEO until you redirect one to the other and submit the correct domain to your Webmaster Tools account)
Brand Message
What is your brand's mission? You need to be clear on what your main mission is and your unique value and present this throughout your freshly designed website. A visitor should be able to understand what you do and how you do it and how you can help them. They should be able to decipher all of this in a matter of seconds when first entering your site.
Website Goals
Start with establishing your website's goals. This might include:
Increase conversion rates
More visitors to your website
Provide a seamless experience for your users on desktop and mobile devices (responsive design)
Maintain or aim to get top positions for your pages in search engine results
Generate leads or enquiries for particular services
Design
Surprisingly many people still go head first into the design without looking at any of the points made above. Let's be clear on this. Design is only considered to be good if it supports and helps you achieve your website and business goals. It is only when you have goals created, brand message aligned, sitemap in place and finished your research that you should even look at the design. The design is what pulls everything together by professionally representing your brand, guiding users to the right places and coaxing them to interact with you.
Plan for the Future
It would be a good idea to put a plan in place on how will you keep your website up-to-date. This might involve:
Drafting a content calendar.
Regularly checking Google Analytics and WebMaster Tools for any errors and insights.
Add relevant and optimised content to your news area.
Syndicate content from your website to your social accounts and drive traffic back to your site.
Review the content on your static pages regularly to make sure it's relevant.
Use tools like Hot Jar or Woopra to see how people interact on your site and adjust your content accordingly.
Regularly adding imagery and videos dramatically increase the time spent on site and help users to understand your business offering.
Also, decide who will do it. Whether it is your agency, yourself or a combination of both.
It is clear that there are many factors to consider when creating a brand new website. Take it step by step and soon enough you will see the desired results
Why do Businesses Need ERP Solutions?
In the present scenario business houses have to rely a lot on ERP systems as it helps them put important management operations together and keep an eye on important aspects of business such as materials management, manufacturing, order processing, warehouse operations, sales, planning, plant maintenance, finance as well as other issues. Eminent business consultants firmly believe that both small as well as large business houses will make potential improvements if they make wise use of this customized solution. The trend of using this customized solution is gradually becoming popular with leading business houses all over the globe because of its multi-functional facilities, agility and cost effective nature. The following points will clarify how businesses profit with this flexible approach.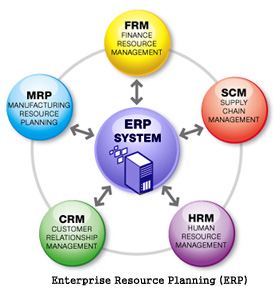 Routine based work gets more streamlined
A business house will find that its regular routines have been successfully converted into effective modules. As a result of which data dependency will be trimmed down to a great extent. Each and every department of an organization will achieve a momentum. At the same time the nature of regular work flow will be less confusing to those who will actually execute the work on behalf of the organization. These simple solutions will also ensure that the work gets carried out in an impressive manner with minimum scopes of mistakes.
Competitive advantage in the marketplace
ERP or enterprise resource planning is designed with a vision to offer a business house with a competitive edge over its closest rivals. With the help of this simple solution a corporate house gets the leverage of collecting, storing, processing, evaluating as well as sharing crucial information which will make positive difference to the stature of a business house.
Centralization of various management activities is achieved effortlessly
ERP solutions integrate various functions of an organization and make them part of a focused as well as centralized system. Because of this effective system a number of crucial management operations can be perfectly threaded into one unit. This increases productivity level of the organization on various levels and at the same time operational costs get managed in a smart way too. Disseminated organizational activities can this way be converted into more streamlined operations which will ultimately offer a momentum to the organization.
Automation of processes
One of the major benefits of ERP solutions is that many business processes get automatically regulated. The most significant feature of an automated process is that businesses houses do not have to be troubled with errors in business processes. Crucial issues such as data duplication can be controlled too.
Enhanced customer satisfaction is ensured
Apt use of ERP solutions helps a business organization to meet the regulatory requirements of the service industry. There is no qualm that organizational efficiency level gets more efficient and simplified. The organization can expect to track errors, recognize most profitable business practices, rev up quality issues as well as spruced up delivery timing. As a result customers start getting better results from the end of the organization.
A perfect combination of hard work and proper planning makes this particular system work. The process surely gives reasons of sure fire success for all businesses across the world. Proper training is essential to increase the effectiveness of this procedure. With proper training and change management systems ERP can offer an optimized growth to business operations. Focused and strategic use of enterprise resource planning is the ultimate gateway of taking advantage out of new business opportunities.
How to Recover Your Website from Google
Has your website been hit by Google