Why do Businesses Need ERP Solutions?
In the present scenario business houses have to rely a lot on ERP systems as it helps them put important management operations together and keep an eye on important aspects of business such as materials management, manufacturing, order processing, warehouse operations, sales, planning, plant maintenance, finance as well as other issues. Eminent business consultants firmly believe that both small as well as large business houses will make potential improvements if they make wise use of this customized solution. The trend of using this customized solution is gradually becoming popular with leading business houses all over the globe because of its multi-functional facilities, agility and cost effective nature. The following points will clarify how businesses profit with this flexible approach.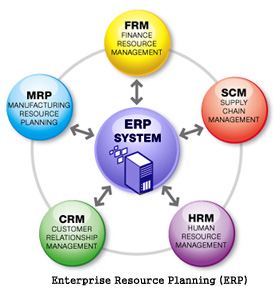 Routine based work gets more streamlined
A business house will find that its regular routines have been successfully converted into effective modules. As a result of which data dependency will be trimmed down to a great extent. Each and every department of an organization will achieve a momentum. At the same time the nature of regular work flow will be less confusing to those who will actually execute the work on behalf of the organization. These simple solutions will also ensure that the work gets carried out in an impressive manner with minimum scopes of mistakes.
Competitive advantage in the marketplace
ERP or enterprise resource planning is designed with a vision to offer a business house with a competitive edge over its closest rivals. With the help of this simple solution a corporate house gets the leverage of collecting, storing, processing, evaluating as well as sharing crucial information which will make positive difference to the stature of a business house.
Centralization of various management activities is achieved effortlessly
ERP solutions integrate various functions of an organization and make them part of a focused as well as centralized system. Because of this effective system a number of crucial management operations can be perfectly threaded into one unit. This increases productivity level of the organization on various levels and at the same time operational costs get managed in a smart way too. Disseminated organizational activities can this way be converted into more streamlined operations which will ultimately offer a momentum to the organization.
Automation of processes
One of the major benefits of ERP solutions is that many business processes get automatically regulated. The most significant feature of an automated process is that businesses houses do not have to be troubled with errors in business processes. Crucial issues such as data duplication can be controlled too.
Enhanced customer satisfaction is ensured
Apt use of ERP solutions helps a business organization to meet the regulatory requirements of the service industry. There is no qualm that organizational efficiency level gets more efficient and simplified. The organization can expect to track errors, recognize most profitable business practices, rev up quality issues as well as spruced up delivery timing. As a result customers start getting better results from the end of the organization.
A perfect combination of hard work and proper planning makes this particular system work. The process surely gives reasons of sure fire success for all businesses across the world. Proper training is essential to increase the effectiveness of this procedure. With proper training and change management systems ERP can offer an optimized growth to business operations. Focused and strategic use of enterprise resource planning is the ultimate gateway of taking advantage out of new business opportunities.